Fundatia Professional - Romania
Professional Foundation is a non-governmental, non-political and non-profit foundation, established in 1998 with a view to promoting high quality in education, intercultural tolerance and appreciation, human rights, fight against poverty and discrimination.
It promotes: intercultural dialogue, networking at local and international levels, European cooperation.
ProF is approved and accredited by the Ministry of Education for the section "Continuing Education" Ord.no. 3133/04.02.2000.
It is a member of QUEST (The Romanian Association for Quality Language Services) and of ACWW (Associated Women of the World) as it upholds the human dignity and well-being of women, refugees and migrant women.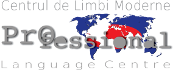 http://professionalcentre.ro/